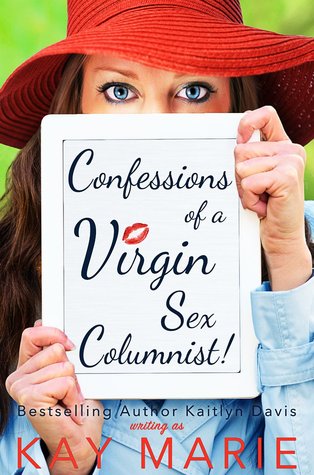 Grade: 5 out of 5
About the book (from Goodreads):
From bestselling author Kaitlyn Davis, writing as Kay Marie, comes a new adult romantic comedy about a girl who'll soon discover that some secrets can't be kept forever, especially those of the heart.

My name is Skylar Quinn. I just moved to New York with my best friend Bridget, and I have a confession. Well, more than one. Okay, quite a few really. Fine, here goes!

Confession #1: I'm a sex columnist. Hold on, that's not really the confession. You see, I'm sort of a virgin...sex columnist.

Confession #2: I'm kind of in love with Bridget's older brother, Oliver. No, I was. No, I am. Wait, was? Am? Crap.

Confession #3: I've been avoiding Oliver for four years. Or I was until today, because he just moved in. Yes, you read that correctly. He's my new roommate. So that night we've both been pretending never happened, well, we might not be able to keep it a secret any longer.

And trust me, this is only the beginning.
What I think about the book:
This was an amazing book that I feel in love with very quickly.
You could say already from the first page.
Here we have a book about a girl at the age of 22 that got a job as a sex columnist and the only problem, or perhaps I should say one of the problems is that she is a virgin and haven't really dated before.
It's a really funny book that contains many subjects such as: the best friend, the romance, miserable date, the rival, the good dates and the love dramas and a little bit more.
All the subjects I love in a book like this. While reading the book I found myself laughing, crying (happy tears), feeling the aaww/naawws and a big OMG.
The writing is good and the English is not at all hard to understand and of course
the story is really great.
I was debating myself if I really should have continue read it in one day or if I should stop
and save something for another time but at the end of the debate I decided to read it all in one day
without any stops so here I am finished with the book that I became to love.
So now I'm waiting for the next book, Confessions of an Undercover Girlfriend!, that won't be out
until Spring 2016 and the waiting might kill me because I want the next book right now!
A big thank you to NetGalley and Xpresso Book Tours for
giving me the chance to read and review this amazing book!
Quote from the book: The best boyfriend I've ever had was a fictional character.
After all, the only one I've really had was John, and after almost 4 years, that ended
with him cheating and me ruing the day he was born.
So, yeah, I'll stick with my books